Gastroschisis
Early in pregnancy, if the muscles that make up the walls of a baby's abdominal wall do not form properly, it can cause the intestines, and sometimes even other organs such as the stomach or liver to fall through a small hole and rest outside of the fetus's belly.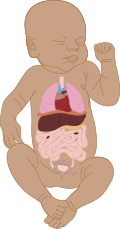 Healthy Baby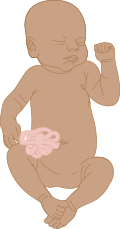 Gastroschisis
Here they develop without a protective sac, meaning that they are vulnerable to infection.
With antenatal diagnosis, and using frequent scans, we can orchestrate a premature delivery through a caesarian section. A silo procedure may be required to position the intestine back into position before closing the hole in the belly.