Exomphalos
Similar to complications related to gastroschisis, where the muscles of the abdominal wall do not form properly, exomphalos involves the intestine developing outside of the abdominal cavity.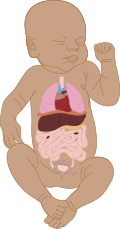 Healthy Baby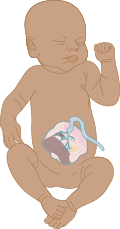 Exomphalos
The difference between exomphalos and gastroschisis being that with exomphalos the intestines are covered in a protective sac.
During antenatal care a detailed fetal assessment for associated anomalies, genetic involvement, and extensive counseling will occur. Once born the sac will usually be wrapped in a protective film to reduce heat and fluid loss until the organs can be placed inside the belly.