Bowel Obstruction
Tumors, scar tissue, twisting or narrowing of the intestine are a few of the issues that can cause bowel obstruction.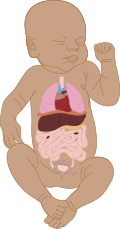 Healthy Baby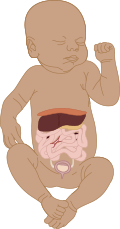 Bowel Obstruction
Some cases can be identified antenatally, but it can also be identified at birth. This complication can cause an inability to tolerate foods, abdominal distension, intestinal rupture or infection.
Basic tests such as blood tests, X rays, and contrast studies are required prior to exploratory surgery. This is often minimally invasive, leaving only a small scar around the belly button. Depending on the condition, sometimes more elaborate surgery is required.